Spring Seed Products and Prices - April 13th 2017
---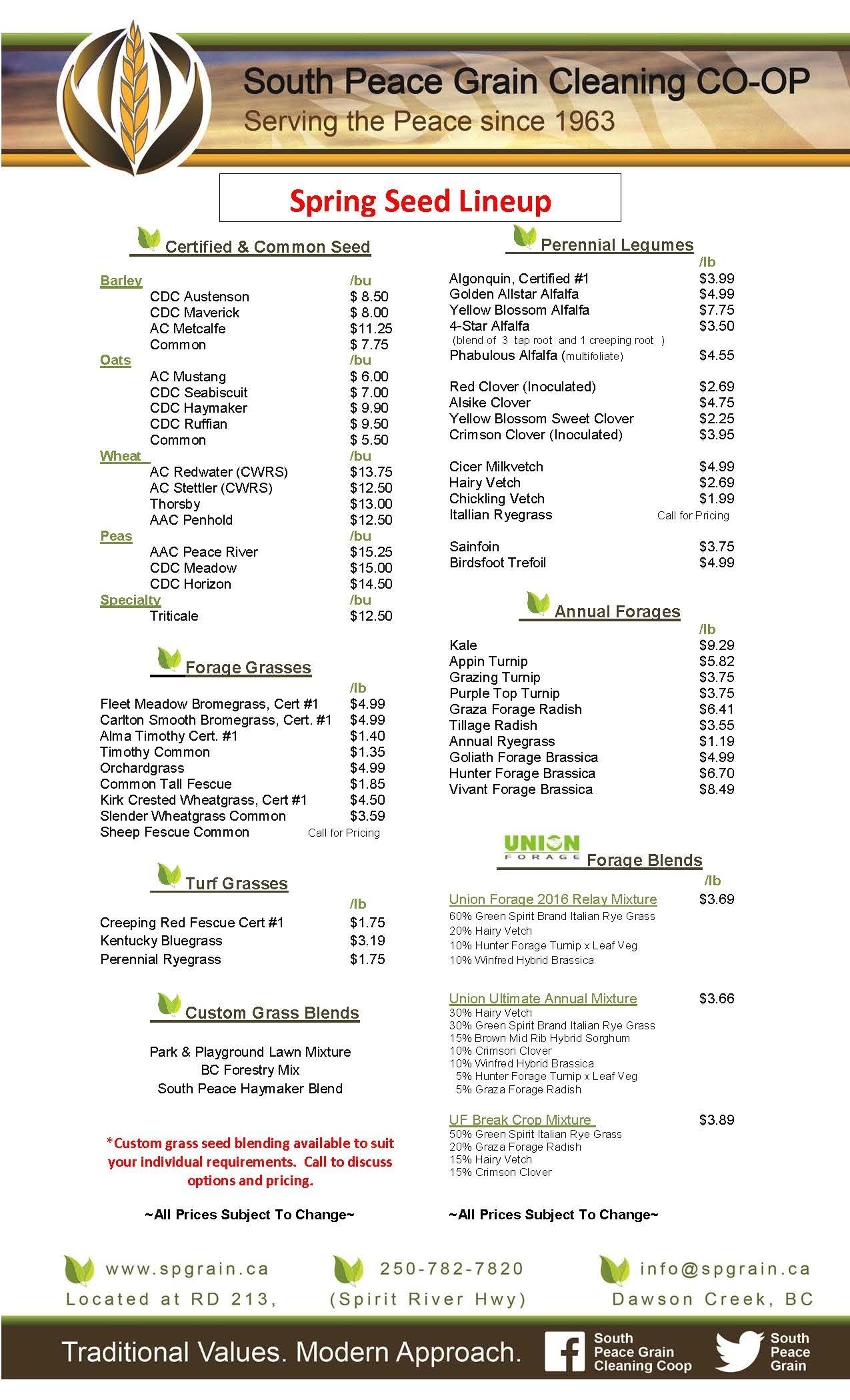 South Peace Grain stocks a wide variety of forage, hay, reclamation, and lawn seed to meet your requirements. Choose from one of our recommended blends or consult with our knowledgeable staff to design a custom blend that's right for you.
Due to the diverse soil conditions in northern BC and Alberta we have developed our inventory to include a broad range of forage seed to meet your unique situation. Whether you're dealing with high ph, low nitrogen or simply overworked ground we can help you rebuild soil health, give you a higher yield hay crop or grazing land that your animals will thrive on.
Check out our Union Forage annual and perennial selection to optimize your rotational grazing and swathing program. Cocktail cover crops are a diverse blend of plant species developed to aid in soil health, quality feed and year round production. Union Forage is on the forefront of Canadian forage seed innovation.
For residential landscaping, largescale sports fields and city parks look to us for a selection of perennial turf and lawn products as well as fertilizer blends to ensure an affordable and lush lawn for years to come.
We also stock native grass seed for reclamation and pipeline work. We work with contractors and energy companies alike, to meet specific blend requirements and provide all necessary certification records.
All of our forage and grass seed is available in 25kg or 50lb bags. We can have it shipped to anywhere in BC and Alberta and will work to ensure the best shipping rates possible.
As with our cereal and pulse processing services over the last six decades, product quality and customer service are two core values of our business. We source as much local seed as possible and strive to ensure top quality genetics and germination. Purity and germination analysis are available for all of our seed products.